When signing up for an account at an online casino, there is a few things you need to pay extra attention to. In the below article we'll take you through the process of creating an account to winning and withdrawing from the beginning until the end.
Open an account
Before you can start playing at any online casino, you have to create an account. After filling out your name and other basic details, you'll usually be asked to read the casino's terms and conditions. Please do note that you should read these carefully, as every online casino has different rules in regards to payment periods, bonusses and more relevant things you want to know. Other than your name and other personal details, you'll need to choose the currency in which you'll be playing (and get paid) and also choose a method of banking.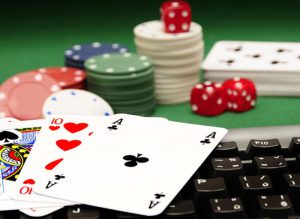 First deposit
Over the years depositing money at an online casino has only become easier. Not to mention safer! Which is equally important. There is a variety of different options to choose from. From using online wallets like Skrill, to simple bank transfer, Paypal or payment by creditcard. It really depends on what you prefer. There are also quite a few casinos these days that accept payment through cryptocurrency like Bitcoin. The different payment options available sometimes also depends on the country where you're from, so make sure to check that out prior creating your account. What's exciting about your first deposit at an online casino is that almost every casino will give you a nice bonus gift. That can be a percentage of extra money on your deposit to play with or a nice amount of free spins. It can be nice to compare the different bonus gifts casinos give to their new players. Sometimes there are also gifts given for the second and third deposit.
Withdraw your cash
Winning big? Then I'm sure at some stage you'll want to withdraw those funds from your casino account to your bank account. Most casinos work in such a way that you receive your money in the same way that you deposited it. Sometimes it's also possible to modify the method. It's possible that in order to go through with the withdrawal you need to provide some extra documents. That's especially the case when you win a big prize. They also go through this process sometimes for first withdrawals, just to make sure that you are who you say you are. Don't be alarmed when you see this happening, this procedure is only in place to protect you and prevent fraud. Additionally what you might want to know is that most big online casinos have a great customer service in place that can help you if you run into any problems.
Wait for the cash to arrive
Most casinos process their withdrawals very fast, but again this is something you should double check in the terms and conditions of the online casino you're playing. It depends on your choice of banking, but you could receive your cash anywhere between a couple of hours to a few business days.
Stop when it's time
Winning big can spark the imagination and make you want to continue playing to win even more. Even though the adrenaline kick can be very strong, you need to know when it's time to stop and simply enjoy your cash prize without continue to gamble with it. Bad luck day? Stop! It's not just about stopping when you win, it's equally important to stop when you lose. Just stop when it's time basically. You'll know that it's time, because you feel a very strong urge to continue.